COVID-19 has brought about massive shifts in working practices resulting in many employees now working at home/remote working at least some days of the week. While there have now been a number of studies addressing prolonged sitting at the workplace, how these strategies translate to the home work environment is less well understood.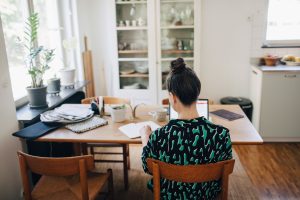 An article titled 'What works to reduce sedentary behavior in the office, and could these intervention components transfer to the home working environment?: A rapid review and transferability appraisal' was recently published in Frontiers in sports and active living to help understand this issue. The aim of the review was to build on existing evidence to identify what works to reduce sedentary behaviour in an office environment, and consider whether these could be transferrable to support employees working at home.
The results of a systematic search of databases CENTRAL, MEDLINE, Embase, PsycInfo, CINHAL, and SportDiscus from 10 August 2017 to 6 September 2021 were added to the references included in a 2018 Cochrane review of office based sedentary interventions. Informed by the Behavior Change Wheel, the most commonly used intervention functions and behavior change techniques were identified from the extracted data. Finally, a sample of common intervention strategies were evaluated by the researchers and stakeholders for potential transferability to the working at home environment.
Twenty-two studies including 29 interventions showing a beneficial direct of effect on sedentary outcomes were included. The most commonly used intervention functions were environmental restructuring, training, education and enablement. Within these, the commonly used behaviour change techniques were instructions on how to perform the behaviour, adding objects to the environment and restructuring the physical environment. Those strategies that showed the most promise for transferring to the home environment included education materials, use of role models, incentives, and prompts.
Click here to read the full publication.
The BeUpstanding program is designed to be suitable not matter where your team is working. It also includes specific resources to support workers from home. If you haven't already, make sure you check out the free resources available through the site.