At team BeUpstanding™, we are not only interested in how our program impacts on raising awareness, building culture, and changing behaviour to support workers to stand up, sit less, and move more, but also on its broader impact on health, productivity and wellbeing.
The following blog is written by Jemieca Loeffler who undertook her honours with the BeUpstanding™ team here at the University of Queensland. She worked with some of our amazing champions and teams taking part in BeUpstanding™ to find out in a bit more detail if there was any impact of the program on occupational stress and group cohesion. What she found was that the more stressed employees were and the more cohesive they felt with their team, the less time they spent sitting at work and the more likely they were to engage in BeUpstanding™.  Sound interesting? Read below to find out more!
Some background info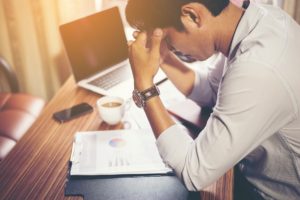 As we know, prolonged sitting can be detrimental for our health, and many of us fall victim to this public health concern through our jobs. A study by Thorpe et al. showed that call centre workers, in particular, are at highest risk of sedentariness, spending up to 90% of their work day sitting, with 30% of this time accrued in uninterrupted bouts of 30 minutes or more. In addition to high levels of prolonged sitting, this sector is also more susceptible to musculoskeletal issues than other computer-based workers.
Clearly, workers in this sector need to regularly break up their sitting time, but what are some of the factors that impact their intentions to do so? One potential factor that may prevent engagement in regular activity breaks at work is stress. Although physical activity is promoted as a stress management strategy, research shows that stress can reduce our intentions to be physically active. Therefore, when we are stressed we are likely to be more sedentary.
On the other hand, a potential facilitating factor to sitting less is how much we feel part of a team at work, otherwise known as team cohesion. We find that the more cohesive individuals feel within their team, the more likely they are to participate and achieve goals, whether that be work performance or physical activity.
So – is there a relationship between sitting, work stress, and team cohesion?
To find this out, we conducted a sub-study within the broader BeUpstanding™ program, working with some of the call-centre teams taking part in the program. We not only wanted to find out call centre workers' levels of sitting, stress, and cohesion, and if there was an association of workplace sitting levels with both stress and cohesion, but also what some of the facilitators and barriers that this workplace faced when implementing the BeUpstanding™ program.
Based on what we mostly find in the literature, it was predicted that higher workplace sitting time would be associated with a) higher levels of occupational stress (because stress is usually related to less physical activity), and b) lower levels of group cohesion, both across the workplace generally, and within the BeUpstanding™ teams (because cohesion is linked to more physical activity and successful outcomes in teams).
What did we do?
Approximately 275 employees at a call centre were exposed to the BeUpstanding™ program, with six champions across three BeUpstanding™ teams driving the program. As part of the program, champions invited employees within their teams to complete an online survey both before launching BeUpstanding™ and after about five months of running the program. This survey involved assessment of their self-reported sitting and activity (e.g. standing and walking), as well as perceptions of occupational stress.
At the post-implementation survey, staff were also asked to complete an additional online survey that assessed their perceived levels of group cohesion with their co-workers across the organisation, as well as within their specific BeUpstanding™ team. We also asked for volunteers to wear an activity monitor on their thigh for a week to gain a much more comprehensive and accurate picture of their sitting, standing and moving time.
Finally, we conducted a focus group with the champions, to gain insights into their perceptions of stress and cohesion at their workplace, as well as potential barriers and facilitators of the BeUpstanding™ program.
What did we find?
Firstly, these call centre workers sat less than others in their sector. At post intervention, they spent approximately 60% of their work day sitting according to both subjective (n = 52), and objective (n = 27) data (compared to the average 90% reported previously for this sector). Employees also felt relatively high levels of cohesion and low levels of stress.
Contrary to hypotheses, occupational stress was significantly and negatively associated with subjectively measured workplace sitting time. This means, when stress is high, the reported time spent sitting is low, and vice-versa. One potential explanation for this is that participants may have used an active break, such as going for a short walk, to help manage stress. Interestingly though, there was no significant association between stress and self-reported activity. Conversely, the relationship between stress and objective sitting time went in the opposite (and expected) direction. Clearly, this relationship needs more investigating.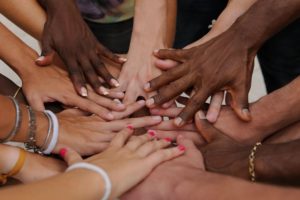 Group cohesion within the organisation was not significantly associated with sitting time, regardless of how the sitting was measured. However, there was a moderately strong correlation observed between cohesion with employees' BeUpstanding™ team and objectively measured workplace sitting and standing, with the more cohesive groups standing more and siting less. However, the same relationships were not observed with the self-report measures. It could also be the case that BeUpstanding™ increased feelings of cohesion, which ultimately reduced sitting time, however this is unknown as group cohesion was not assessed at baseline.
A deductive analysis of the focus group revealed that, overall, stress did not appear to be a significant issue with this workplace, and that this workplace was likely to be relatively cohesive. This is in line with what the survey data revealed. Having a supportive manager, access to electric sit-stand desks, and a strong motivation to address prolonged sitting were just some of the factors that facilitated the implementation of the BeUpstanding™ program, while limited stair access and staff turnover during the course of the program were some of the barriers identified.
So, what now?
This data provides some important preliminary insights into the relationship between sitting, activity, work stress, and team cohesion, and how the BeUpstanding™ program may have impacted on these. Some key things to note about these findings, is that a) the small sample size may have limited significant results, and that b) the workplace that took part in this study was a health call centre which is quite different to other call centres – the results might vary if we had tested a company with a different focus, such as a sales call centre. It is also important to remember that these findings are not indicative of causation. More studies need to be conducted to identify the how stress and cohesion may impact, or be impacted by, sedentary behaviour amongst a diverse range of call centre workers specifically, and desk-based workers in general.
So, in summary – stay tuned! The data we are collecting with the help of all our fabulous BeUpstanding™ champions and teams is helping to answer these questions.