Using a standing desk alongside a package of other measures to encourage office workers to sit less and move more, reduced sitting time by about an hour a day over one year, finds a trial published in The BMJ. These measures were also linked to small (though not clinically meaningful) improvements in stress, wellbeing, and energy levels at work. BeUpstanding team members Professors Genevieve Healy and David Dunstan were part of the research team that was led by A/Prof Charlotte Edwardson from The University of Leicester in the UK.
What was the study about?
The randomised controlled trial was evaluating the impact of the Smart Work and Life intervention with and without a sit-stand workstation, compared to a comparison group. The Smart Work and Life intervention is designed to support desk-based workers to sit less and move more, both in the workplace and at home. The trial involved 756 office workers from two councils in Leicester, three in Greater Manchester, and one in Liverpool.
Similar to BeUpstanding, the Smart Work and Life (SWAL) intervention uses workplace champions to deliver the intervention. Those in the intervention group were given a range of resources to help them reduce their sitting time, and highlight the health risks of too much sitting. Workplaces were also encouraged to make small changes around the office to enable more movement, such as relocating printers and waste paper bins and creating standing areas for meetings.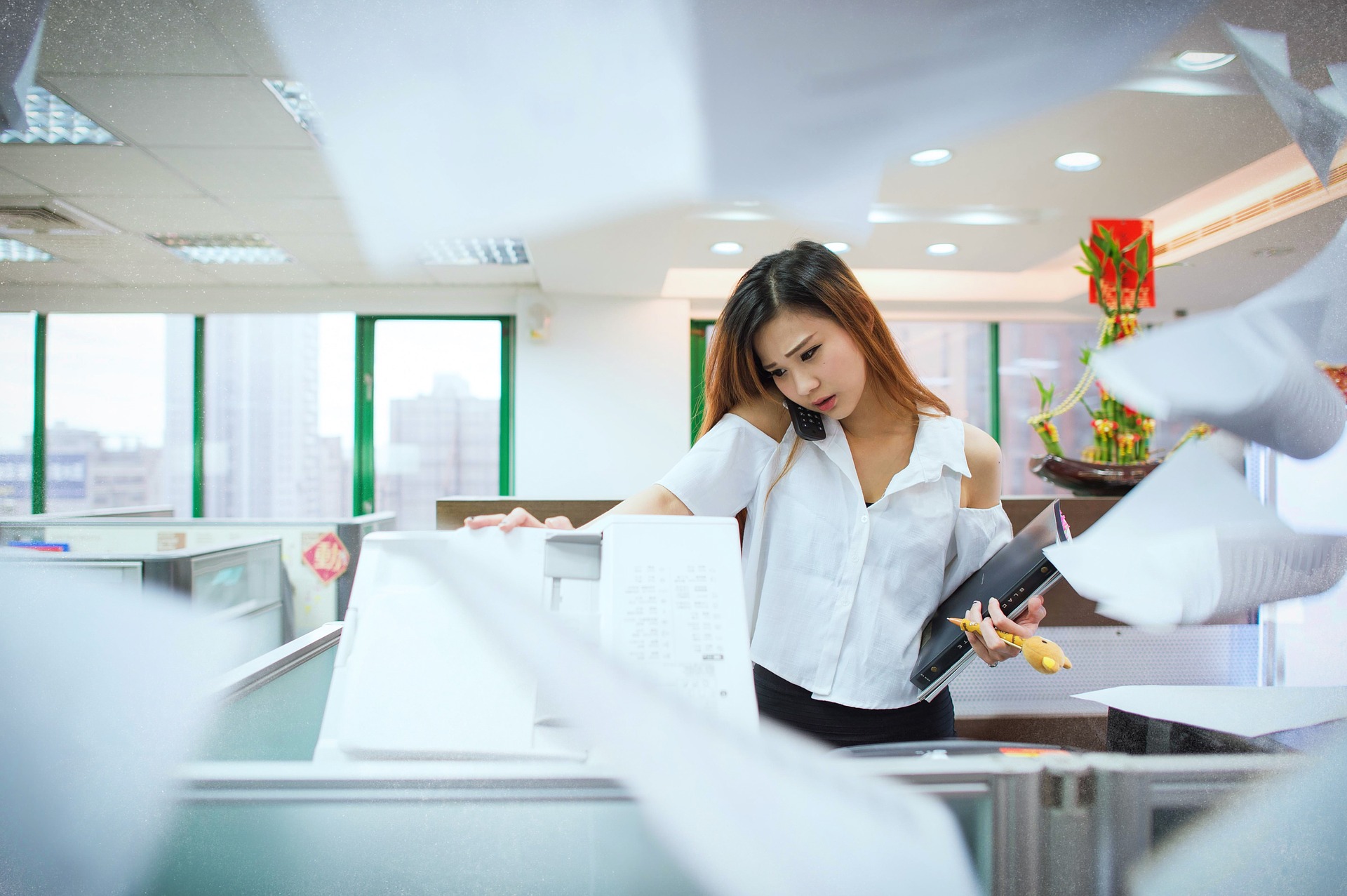 What was measured?
Workers' sitting time was measured using a device (activPAL) worn on the thigh at the start of the study and again at 12 months. This device enables accurate measurement of a persons' sitting, standing and stepping time across the whole day and is also able to pick up transitions between postures. Daily physical activity levels, and self-reported feedback about work, physical and mental health were also recorded. Notably, the trial was started before COVID-19 and had to be cut short from the planned 24 month follow-up (to 12 months) due to the enforced work-from-home orders.
What was found?
The SWAL intervention plus standing desk was three times more effective at reducing sitting time than the SWAL intervention alone. For example, at 12 months, daily sitting time for the SWAL group, and the SWAL plus standing desk were, respectively, 22 minutes and 64 per day minutes lower on average than the control group.  
Small, but non-clinically meaningful improvements in stress, wellbeing, and a sense of work-related vigour were found for both intervention groups compared with the control group at three and 12 months, as well as lower limb pain (hips, knees and ankles) in the SWAL plus desk group.
Although time spent sitting was lower in both intervention groups compared with the control group, most participants simply replaced sitting with standing, and further work is needed to encourage more physical activity, particularly outside of working hours.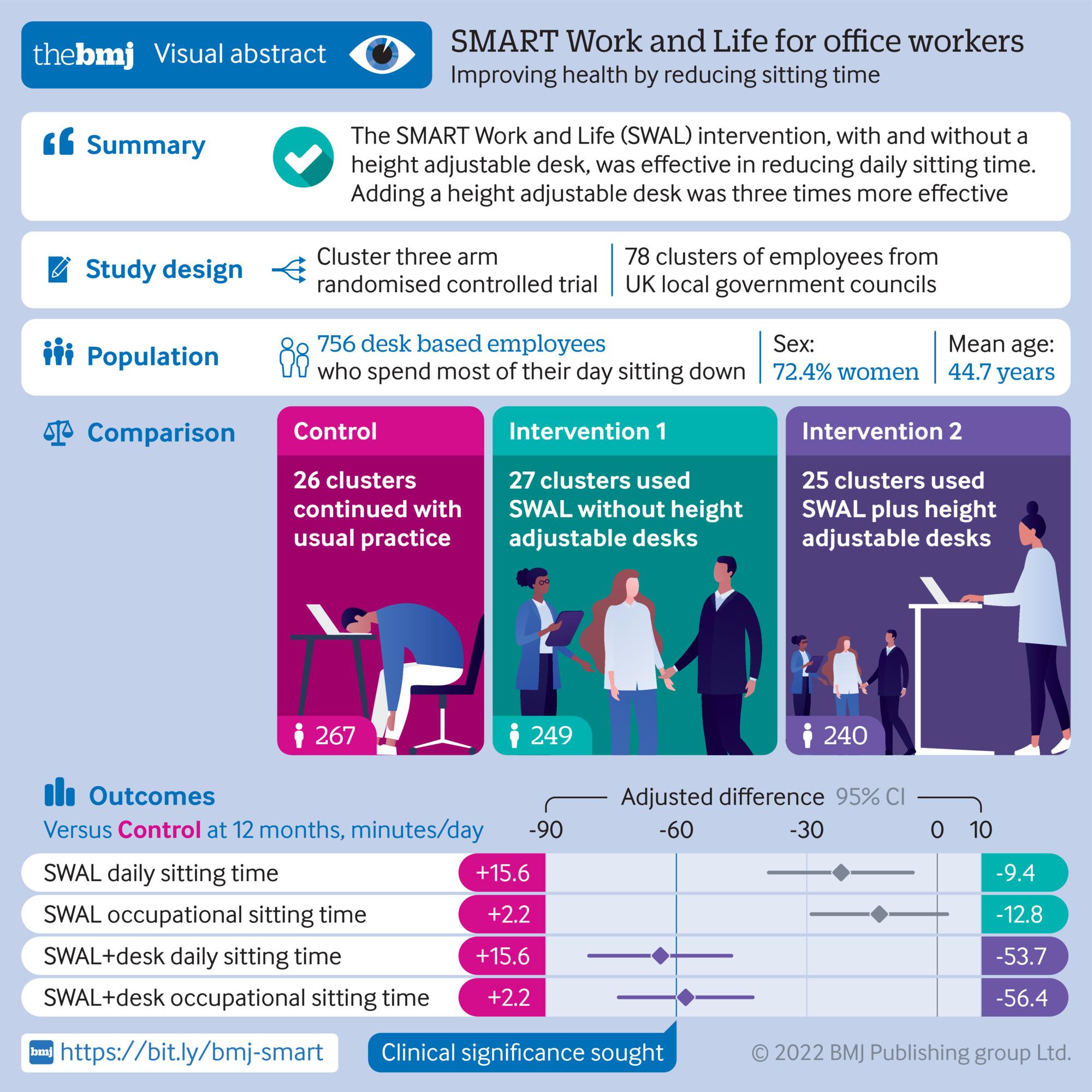 What does this mean?
This is a high-quality contribution to the evidence base on supporting workers to sit less and move more. It provides further support to the effectiveness of sit-stand desk – coupled with education and organisational support – for reducing high levels of workplace sitting time. Planned publications will provide further insights into what worked and for whom, as well as the health economic implications of the findings.
Want to read more? Read the full article here.
Reference: Edwardson C L, Biddle S J H, Clemes S A, Davies M J, Dunstan D W, Eborall H et al. Effectiveness of an intervention for reducing sitting time and improving health in office workers: three arm cluster randomised controlled trial BMJ 2022; 378 :e069288 doi:10.1136/bmj-2021-069288